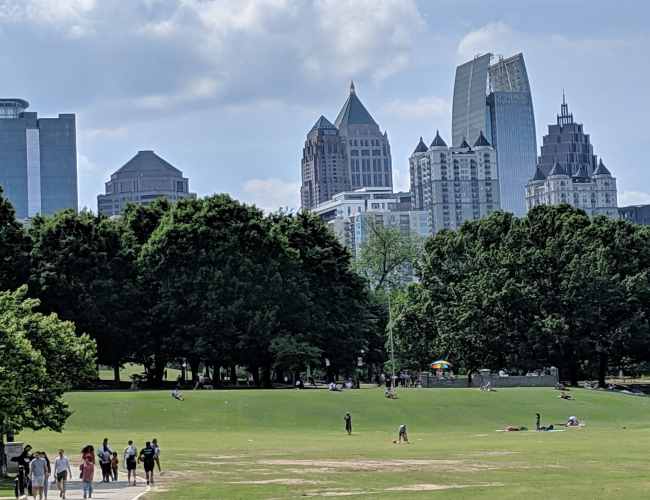 Atlanta can be seen as a blend of suburbs and cities, each one with its own charm. Whether you're a young and single professional, raising a family, retiring, or looking for the next place to grow, Atlanta has the perfect niche for everyone.
If white picket fences, big yards and a family-friendly vibe are calling your name, Atlanta has plenty of picture-perfect suburbs from which to choose. There are plenty local communities outside of the big city that offer good commute times and excellent schools and neighborhood amenities. Knowing where to start your home search is key. (If you don't know where to start looking in metro Atlanta real estate, just call local agent Thor Goricki, for help!)
Niche.com is website finds information such as the best suburbs to live in, and the top 10 ranking cities located within the metro Atlanta area. The data collected comes from a range of sources, including the U.S. Department of Education, U.S. Census Bureau and local residents of the area.
Here's a little insight into some of the top-rated cities in metro Atlanta, based on growth and resale value.
Marietta
If the city of Atlanta is the front porch of Georgia, then Marietta Square is its living room! A destination for food and fun, the Marietta Square is the location for the Marietta Square Farmers Market, Taste of Marietta, Arts & Crafts Festivals, free concert in the square, art museums and more. Aside from the historical Marietta square area, it also is home to White Water and Sope Creek Trail, a three-mile long trail that leads to the ruins of a stacked-stone paper mill and then to a pond in the Chattahoochee River Park in Atlanta.
Ranging from the mid-$200,000's to over $1 million, Thor Goricki and his RE/MAX Town & Country Team have several homes in Marietta ready for purchase.
Woodstock
The nightlife in Woodstock has it all! Downtown Woodstock offers an array of entertainment and hangouts such as MadLife Stage & Studios, Reformation Brewery and many great restaurants like Salt Factory Pub, Freight Kitchen & Tap, Ipp's Pastaria & Bar, and many others. For those who love to shop, there are also lots of boutiques in downtown Woodstock. Many homes in Woodstock are walkable to downtown and in the center of everything. The Towne Lake area of Woodstock is very affordable and has close proximity to the square. Money Magazine named Woodstock, Georgia "One of the Top 50 Places to Live in the U.S."
Alpharetta
In recent years, the booming city of Alpharetta has been named by Forbes as the No. 1 "reloville" in the U.S. and the No. 7 friendliest town in America. In addition to incredible living options in Alpharetta, technology companies such as Microsoft, LexisNexis and UPS also call this city home. It has so many shopping and dining options at North Point Mall, and the newly built Avalon offers shops and entertainment. This suburb is popular among both metro Atlanta natives and newcomers. It is a growing city with lots to offer!
Thriving Metro Atlanta Area
With vibrant, diverse communities, affordable housing and a booming economy, the metro Atlanta area is a desirable place to live. Atlanta is home to several major companies, including Mercedes-Benz, The Home Depot, UPS, Coca-Cola, Delta Airlines and Aflac. Through various tax incentives, metro Atlanta is a great destination for businesses looking to expand or relocate, and for homebuyers wanting to enjoy good resale value and quality of life.
If you are in the market for a home in one of the best suburb in Atlanta, call Thor and his team at 678-283-6765.