Did you know that metro Atlanta is a major real estate hub for investors? Not only do investors enjoy a solid return, but home buyers do too. If you buy a home in one of Atlanta's metro areas and live in it for just a few years, the re-sale price of your home will still climb upward, in just a short time. Under current market conditions, the price percentage that it will climb is over 8% in just one year. (As seen in the AJC)
There are several reasons for this positive climb in resale value. The economy is strong, metro Atlanta is growing, and local employers are hiring. One more big contributor: house inventory is low. All of these reasons create a perfect place to buy a home- or sell one!
If you are considering a nice nest-egg for retirement, real estate is always a solid investment, too. Real estate can provide a nice retirement, or pay well in terms of rental income, each month. The metro Atlanta rental market is growing at one of the fastest rates in the U.S. The demand is consistent and prices are high for monthly rentals.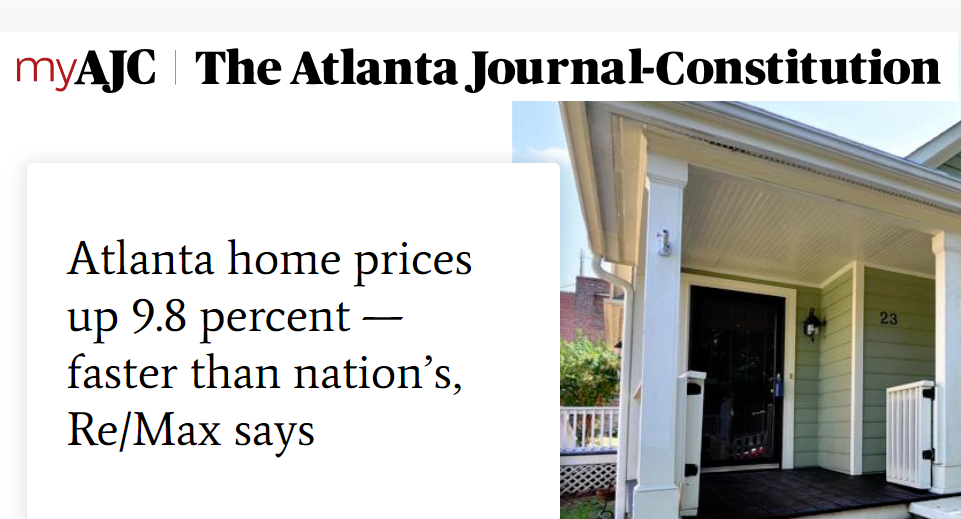 In a recent RE/MAX of Georgia analysis, the study indicated that home sale prices across the metro Atlanta areas have jumped by 8 percent in a single year. Wow! That was a big jump for just one year.
"What we're witnessing in the greater Atlanta housing market are the effects of very low inventory—decreasing supply with the median home price increasing 8 percent year-over-year," said John Rainey, the RE/MAX Georgia vice president.
What does this all mean for you? Buying a home in the metro Atlanta area is a smart decision, AND selling your home now can still be a great choice! Call Thor to buy or sell your home in the Metro Atlanta area.678-283-6765